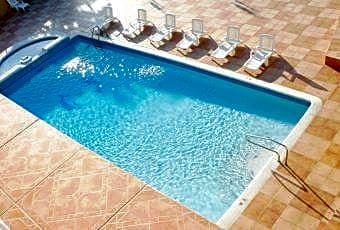 友だちにメールで教えよう!
このサイトが役に立つと思ったら… 友達にもシェアしよう!
下のフォームに記入して簡単にメール送信しましょう。
弊社ではメールアドレスを保存したり、お客さまにもお友だちにも望まれないメー
ルを送ったりすることはありませんので、どうかご安心ください。
Set amid the prized beaches of Montego Bay, near upscale dining, shopping, and numerous art galleries found on Gloucester Avenue, Grandiosa Hotel is unbelievably close to a multitude of scenic attractions such as Doctor's Cave Beach, AquaSol Theme Park, Rose Hall Great House, Half Moon Golf Course, and Montego Bay Cruise Ship Terminal.

Accommodation
Impeccably equipped with a staggering array of convenience items and modern amenities, the inclusive abodes of Grandiosa Hotel evoke a home-like feeling, yet maintain the high-quality of a paradise resort. What's more, guests can comfortably settle in thanks to a plethora of bonus articles like complimentary newspaper and toiletries, shower/tub combination, signature bedding, blackout curtains, premium cable channels, plus lovely balcony or patio. Fitting for the warm, tropical weather, air conditioning with climate control comes as standard whereas adjoining rooms, rollaway and cribs/infant beds, combined with hair dryer are obtainable on request.

Hotel Facilities
Together with prompt in-room dining, patrons of Grandiosa Hotel enjoy a variety of on-site features including a relaxing outdoor pool, soothing spa tub, grand ballroom, cocktail bar/lounge, lavish garden, not to mention fantastic banquet facilities where event catering and wedding provisions can be arranged. Vacationers travelling with a child/children revel supervised babysitting while everyone welcomes dry cleaning/laundry service, currency exchange, free Wi-Fi in public areas, in conjunction with complimentary newspapers in the inviting lobby. Those on business-related travels value audio-visual equipment, professional business services, exhibit space, as well as multiple meeting rooms, all of which promote a well-balance experience. The helpful front of house staff is readily available to assist with virtually any need.

Transportation
Merely 2 kilometres away, travellers of Grandiosa Hotel are provided free transportation from and to Montego Bay's airport. Furthermore, those arriving by vehicle appreciate complimentary parking on the premises.
予約する方法
Grandiosa Hotelで予約するのが簡単で安全でございます。ご希望の日付を選択します。そして、フォームを送信するために「料金を確認し」というボタンをクリックします。 客室タイプと料金はお宅の画面に戻った後で、画面の中央にある部屋の情報を読むと画面の右側にある「予約する」というボタンをクリックすることによって希望の料金を選択することができます。希望の客室タイプを選択した後で、「ご予約を完了」というフォームに転送されます。その時に「滞在の詳細」を確認して、「ゲストの詳細」という部分の空欄でご自分の詳細のことを書きます。ご自分の名前とメールアドレスが正しく入力されていることを確認してください。 すべての重要な情報を記入した後で、「ご予約を完了」というボタンをクリックしてください。ご自分のセキュリティを確保するために、私たちがクレジットカード番号を暗号化し、非使用可能な形式にエンコードする安全なコマースサーバーを使います。
地域情報
空港

Montego Bay, Jamaica (MBJ-Sir Donald Sangster Intl.) - 4,784 f
Negril, Jamaica (NEG-Negril Aerodrome) - 28.87 mi